How To Shake Up A Monotonous Life
If you're tired of going through the motions day after day, here are 5 super easy tips for escaping the monotonous life of 9-5 life without having to quit your job. This post walks you through exactly how to make life less boring and start living an interesting life that you love.
---
One year ago this month I was in a rough spot in my life.
Everything seemed great: I had the cushy corporate job, the house in the suburbs, two kids, a husband, a dog… everything was rosy.
Except I hated that corporate job.
I hated sitting in that cubicle, having no impact, trying to climb some silly corporate ladder in a company that I did not value and that did not value me.
After a quarter life crisis, I made a change and started working for a company that was making an impact in my community, for people that I respected, and who valued me and what I brought to the table.
It was the best decision I'd made, and I expected to be happy forever.
Funnily enough, over the course of the next 6 months, I felt almost the same way I had in my previous job. I mean, I wasn't crying in the bathroom every morning, but I no longer woke up invigorated on Monday morning.
I still loved my new job and was proud of my choice to switch gears. But I learned that happiness isn't something you can achieve and then keep forever.
Recently I found myself in a bit of a funk.
When Monday morning rolled around I wasn't looking forward to waking up and going through the motions. It felt as if every minute of every day was scripted, repetitive, and monotonous. I woke up with a heavy sigh, and a 'let's just get this over with' attitude.
That's not how I want to live my life.
I don't want to be waiting for tomorrow, or for the weekend, or for retirement.
I want to enjoy the here and the now. The days are long but the years are short. And there are no guarantees.
I set out on a mission to bring joy and meaning back into my days. I'm proud to say, this week has been my most joyful week ever. Why? No particular reason. And that is the best part.
There is no external circumstance that has caused me to be happy. Which means there is nothing that will fade away into the past and leave me back in a slump of negative feelings.
Everything I've changed was within me this whole time.
This week I've deliberately set myself up to be joyful, and it worked! Now I want to share it with you so that you're able to get out of that rut, bring joy back into your day, and enjoy the life you're living.
Here are 5 things I did to create joy and escape the monotony of 9-5 life.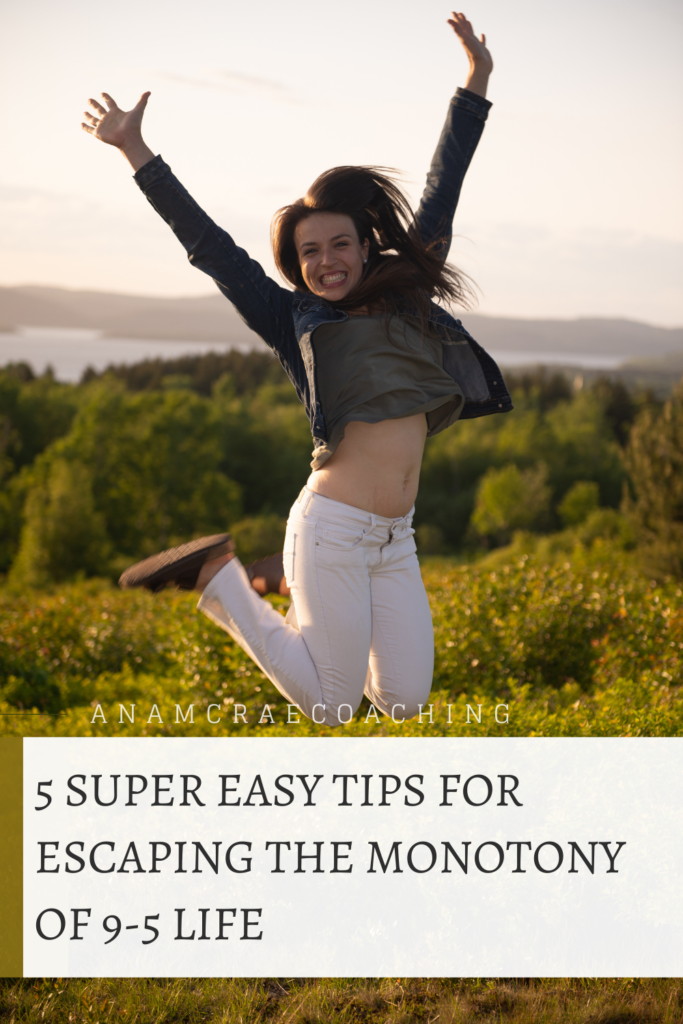 // 1 // I made meditation part of my day
I didn't use to think I had time to sit around and do nothing, but the truth is I couldn't afford not to.
Now that I've been practicing meditation on and off for the last 6 months, I can feel the difference in my mental state when I've taken the time to breathe versus when I've just brushed it off.
Meditating every morning before I kick start into high gear allows me to ground myself.
It is a break in the monotony of go go go to rest and remember what really matters.
After I meditate I always stand up with a smile on my face. Not in a cheesy way, but just in a way that feels peaceful and brings reassurance that no matter what life throws my way, I am going to be okay today!
There is a sense of calm in me that allows me to take the day slowly, one moment at a time, and enjoy that which each moment has to offer.
I got into meditating by watching these guided meditations from Boho Beautiful on Youtube.
I absolutely love her channel. The guided meditation videos make the transition from sitting there feeling awkward and antsy to instant calm and gratitude very quick and easy!
I also tried out the Headspace app, which I found helpful, but it wasn't in my budget to upgrade when I ran out of free trials.
Now that I can go 5-10 minutes, I tend to just sit in my papasan chair and meditate without a guide — didn't think I'd ever get to this point, but it's possible! I simply focus on breathing in, and exhaling out. I listen to all of my senses and I relax all of my muscles.
This week I've meditated every morning, and it's added so much joy to my day.
Immediately after meditating, I go and wake the kids up for school, and it changes the entirety of my interactions with them.
I spend more time enjoying them and being grateful for having the cuties in my life, rather than rushing them out the door and getting impatient with their toddler slowness.
If you're waking up in the mornings and feeling bleak, I urge you to commit to meditating for a week!
Also, join our uplifting and motivating community on Instagram if you want to surround yourself with people who will inspire, encourage, and motivate you to live your best life, and prioritize your dreams!
// 2 // Switch up the small things
When every day starts to feel the same, that's when I get restless. I love a plan, and a routine, but I have to feel like there is more to life than eating the same sandwich at my desk day after day.
Every day this week, I did something to switch up the little things.
I cooked a recipe I hadn't tried before (Mediterranean quinoa chicken bowls, and they were amazing!)
Worked from a different location (in my case, the dining room table, instead of my office desk)
Listened to a new podcast episode in the shower (Rachel Hollis always gets me going in the morning, but I rarely turn on a podcast)
I ditched my usual peanut butter banana protein smoothie for breakfast, and had eggs and toast instead (revolutionary, I know!)
I bought a new salad dressing for my lunch (because eating a Greek salad every day for the past 6 months got a little boring)
Honestly, when you read this list, these little things don't seem like they will matter, but they brought me a shocking amount of joy! Maybe it's just me that feels like a rebel when I forego my routine smoothie, but if you feel like every day is the same
Listen to a new playlist of songs you haven't heard before
Pick up a new book
Wear an outfit you haven't pulled out in a while
Do your hair differently
Eat new things
Catch up with old friends you never talk to anymore
The little things break up the monotony without breaking the bank! Sometimes there really is nothing better than a new pen!
// 3 // Practice gratitude every morning and evening
Journaling and taking time to self reflect has been pivotal in finding joy every day.
Sometimes I get so caught up in the doing of the things that I forget to make note of how they make me feel.
I can have the world's most relaxing day, and if I don't take the time to realize it was relaxing, I don't fully appreciate my day.
Every morning I write down 3 things I am grateful for as part of my morning routine.
Gratitude helps me avoid the 'hedonic treadmill' – the concept of getting used to and forgetting to appreciate the things that were once a big deal – and stay grateful for all of the blessing in my life.
I couldn't truly appreciate the joy in my day without practicing gratitude first. I think this is where I fell short after a few months in the new job, I started to take all of the improvements for granted. Don't make that mistake!
If you're looking for practical advice that you can start using today on how to build a life exploding with gratitude and joy, join our email community!
You will get this amazing goal setting template and success checklist to help you slay your biggest goals, as well as practical, tactical, actionable advice that you can implement TODAY to build a life exploding with joy.
// 4 // Plan one thing to look forward to each day
Sometimes I just get so, so tired. Between two kids, a marriage, a career, and a side hustle – oh and don't forget the big furry dog – some days it seems like there's nothing left in me. So at the worst of times I just let the days slip by.
But this week, I planned one little thing to look forward to each day.
Monday we took the kids swimming at our local aquatic centre
Tuesday I took my son snowboarding at a small ski resort an hour away
Wednesday I took the kids skating, which quickly turned into an impromptu playground adventure because the rink turned out to be closed
Thursday the kiddos and I surprised Daddy by kidnapping him for a hike and picnic supper
Friday we had a movie night that I bought special snacks for
By the time the weekend came around, my week had been so full of happy that I was perfectly content to stay home and do nothing. And that was the kicker, because I made my week so great, I didn't need to look forward to the weekend.
This has become part of my life's mission, to help other women build a life where Mondays don't suck and weekends aren't the only good in life. If you're feeling stuck in your career, in your relationship, with your health, with your happiness, I am here to get you out of that rut – let's work together.
When you wake up in the morning, think about the activity you have planned for the evening, and feel pure joy for the life you are living.
If doing something new and exciting every day for a week is too much for you, I suggest you start with Mondays. Nothing cures the Monday blues better than having something awesome to look forward to after work!
// 5 // Read books that inspire joy
Books are so good at bringing things into perspective and helping you see things a different way.
If you're looking for more joy and meaning, I highly recommend Brene Brown.
A lot of the personal development books I like to read are fantastic at inspiring you to change your life. Here's a list of my top 5 life changing books.
Sometimes I get into this spiral of accomplishing and achieving, and I lose the balance of slowing down, finding joy, and staying in the present moment.
Brene Brown's Gifts Of Imperfection has inspired me to find that balance for myself, live authentically, and feel very alive.
Related: 3 Personal Development Books To Inspire Personal Growth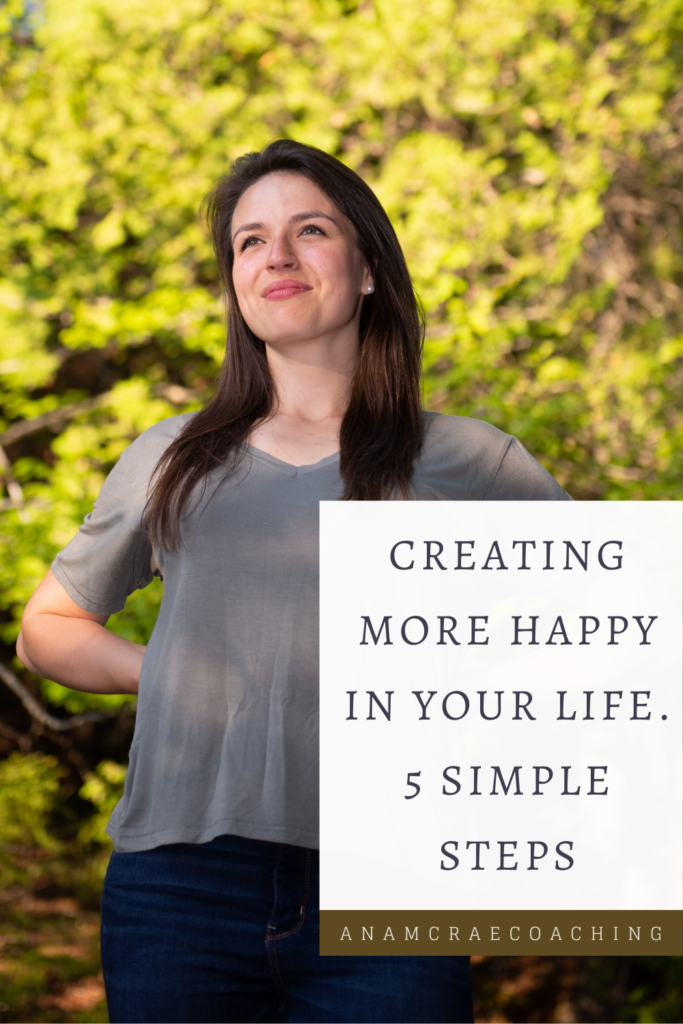 It sucks to get stuck in a rut.
I never show up as the best version of myself when I feel like my days are dragging on and my life is a monotony of chores and work.
Traditionally, I tackle this feeling by questioning all of my life choices and debating a career switch… It's a little dramatic but that's where my mind tends to go. If I'm not experiencing pure happiness right now, I must be in the wrong job.
But this time around I focused on the little things that make Monday more exciting.
I switched up my routine a bit.
Grounded myself through meditation.
Planned fun things to look forward to.
I always took the time to be grateful for what I've got.
And I inspired myself through the words of brilliant authors.
This week has been phenomenal, and the weekend might actually be a bummer comparatively.
But isn't that a dream?
---
Related posts:
---
How do you keep your spirits up when it's the middle of winter and you haven't had a vacation in months? I would love to know in the comments below!