client testimonials
let this be the evidence your brain needs to see that
investing in 1:1 coaching is the best decision you can make
Amy Bostick
1:1 PURPOSE COACHING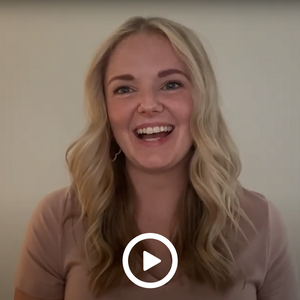 watch the videos to learn what my 1:1 coaching clients
REALLY thought about working together
here's exactly what my 1:1 coaching clients are saying
about our work together
LINDSAY DARLING
1:1 Online Business Coaching
Ana has helped me to understand how and why I get stuck, how to see the possibilities vs. the roadblocks, and how to take action steps towards creating the life I want.
I count the conversations I've had with Ana among the most meaningful and pivotal of my life. I leave every session feeling empowered, clear, and grounded. To call her a business coach seems incredibly minimizing as I found her to be my closest confidant, my trusted sounding board, and my mirror — reflecting back to me who I am now as well as who I need to become in order to achieve my goals.
Ana has a brilliant business mind, a deep understanding of human nature, and, maybe most importantly, an ability to distill down the obstacles that keep people from truly expanding into their own greatness (oh, and then she creates a plan to overcome them!).
She is a voice that challenges you to think and act in different ways—to provide you with a new, empowering perspective. If there's a gap between where you are now, and where you want to be, coaching works — and Ana is as good as it gets!
JAX OCHS
1:1 ONLINE BUSINESS COACHING CLIENT
Our first coaching call left me so energized and motivated, I knew I had to keep going. You are so skilled in what you do and I am so happy I got the chance to work with you. I expected to be able to launch my blog- which I did! Then I was able to achieve my bigger, 5-year goals within months instead! I was able to work through my biggest mental blocks to set a foundation for success in anything I do. I got so much value from my coaching experience. For the first time, I feel confident in my ability to actually put myself out there and share my unique skills with the world. I've always been a high achiever, but held back by anxiety and a terrible inability to break down goals into realistic steps. Coaching helped me challenge my limiting beliefs and actually turn my dreams into plans, THEN successfully take action!!
JAIME WHITE
1:1 ONLINE BUSINESS COACHING CLIENT
I was originally looking for a health coach and found Ana instead. In 6 short months of working together, she helped me realize the dreams I had buried and turn them into a real possibility!! I hosted my first practice retreat for women!!
There were times I wanted to cancel appointments because I hadn't done the work I committed to. The self doubts were real. Instead I showed up and did the messy work with Ana. Now I have clarity on my purpose (just as she originally promised) and the results are worth the work!! I'm looking forward to seeing what additional miracles we can accomplish together in the next 6 months!
BILLY ENGLISH
1:1 EXECUTIVE BUSINESS COACHING CLIENT
Having Ana as a coach has helped me stay focused and more productive than ever before. As an entrepreneur, my life can be rather hectic. I am often pulled in several directions. With Ana's guidance during our coaching sessions, I am able to be held accountable for the things I've said I want to do – despite the distractions going on around me. Ana helps me define the "why" behind what I want to achieve. She helps me create the space to accomplish goals that so often fall off the list. I highly recommend Ana's coaching to anyone who is driven and looking for a way to accomplish so much more than they already are.
SAMANTHA KOPELMAN
1:1 ONLINE BUSINESS COACHING CLIENT
"My coaching experience has been amazing and always exceeds expectations! It's been very helpful for me to create a vision for what I want my life to look like. I knew I wanted to start a business but felt lost as to what and how. Ana helped me get clear on exactly what kind of business I wanted to start and land my first paying client! The combination of business advice and also mindset coaching has been the perfect mix for me. The high level support during sessions is so powerful and it's awesome working with someone who knows me so well! I'm so grateful I found you as my coach, Ana! You've been such an integral part of setting a vision for my life and working towards it.
AMY BOSTICK
1:1 PURPOSE COACHING CLIENT
When I first made the decision to reach out to Ana, I can only describe myself as being in a dense fog. I could recognize I was in a job that was not providing me with the fulfillment I craved yet I had no idea what I wanted to do instead or how to even go about figuring that out. Working with Ana was beyond anything I could have imagined from a coach. Ana helped me uncover what was in me all along and helped me develop strategies to take control back over my life right away, providing empathy all along the way. I'm happy to say that now the fog is lifted. Being coached by Ana is the best investment I've made not only in my career but my life overall.
SANDRA ENGLISH
1:1 EXECUTIVE Business Coaching
This has been 10/10 amazing!! Hiring Ana is one of the best business decisions I've ever made. Everybody needs an Ana. One of the biggest benefits I experienced was having a guide post every week to keep me focused, and to have someone help me do the mental lifting around figuring out how to prioritize the goals and how to see a clear path to them. The investment is SO worth it. I feel super energized, refocused, and have a sense of clarity leaving each coaching session. It's game changing!
RESULTS I'VE HELPED MY CLIENTS CREATE
When you're thinking about working with a business coach, you want to KNOW that they can help you achieve the goals you have. And while life doesn't come with guarantees (dang it!) I'd love to share some of the results I've helped my business coaching clients create so that you can see what's possible for you too when we work together.
Here's exactly what I've helped my clients achieve AS A BUSINESS COACH:
What it's Like to Work Together
Real feedback my clients have given during our coaching partnerships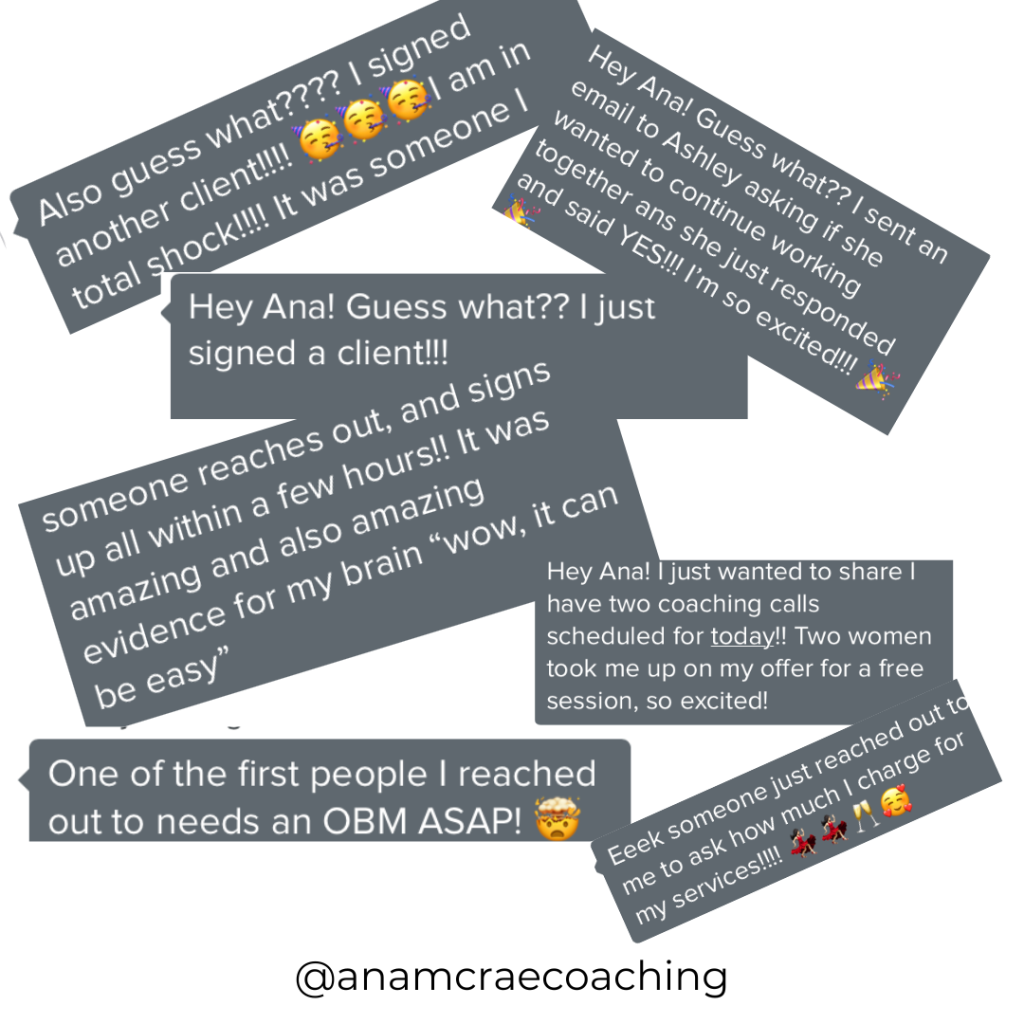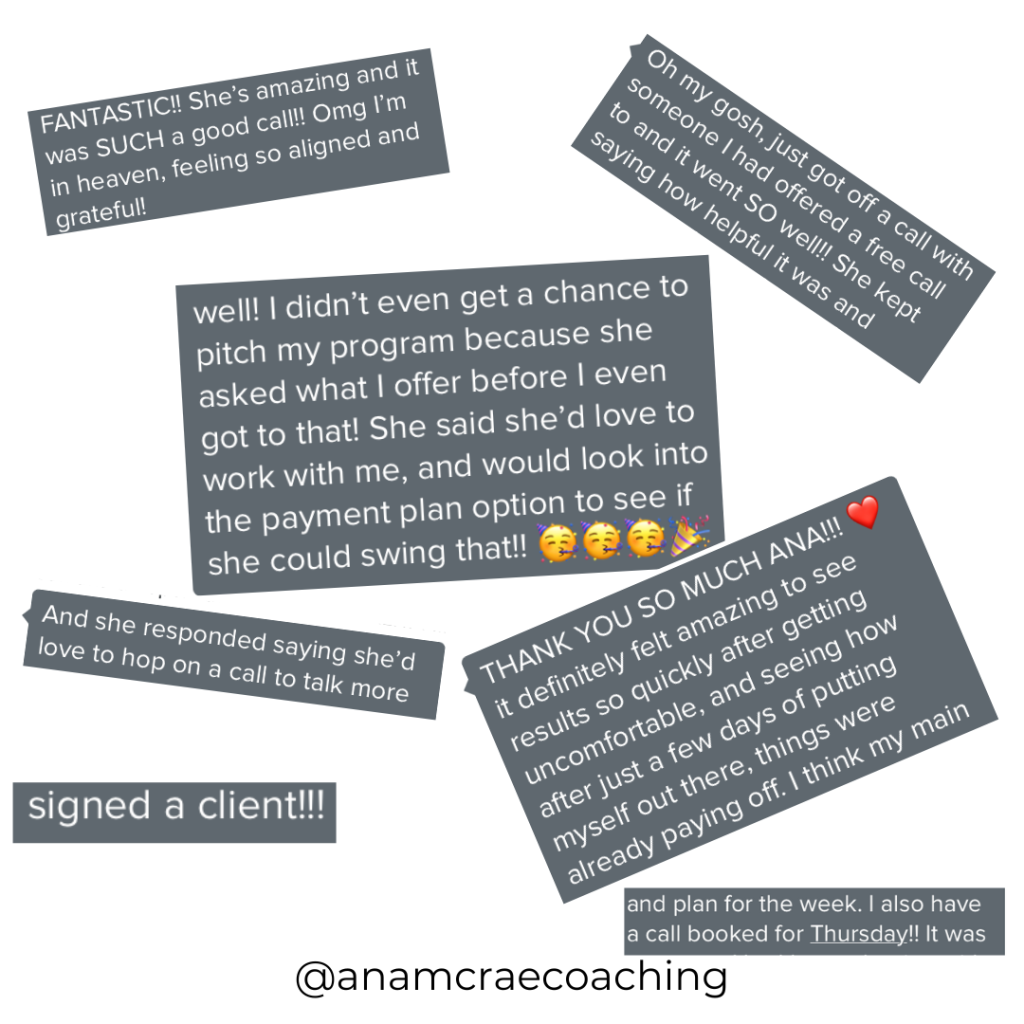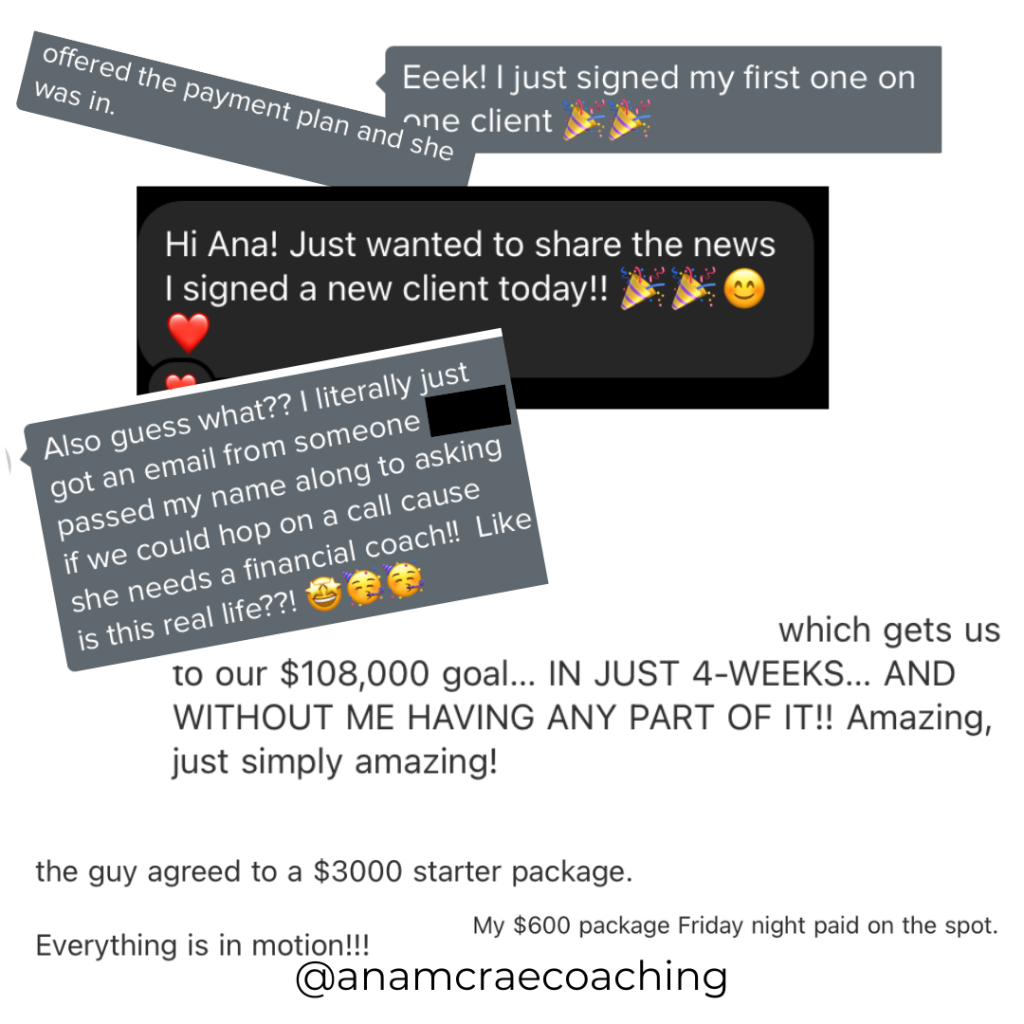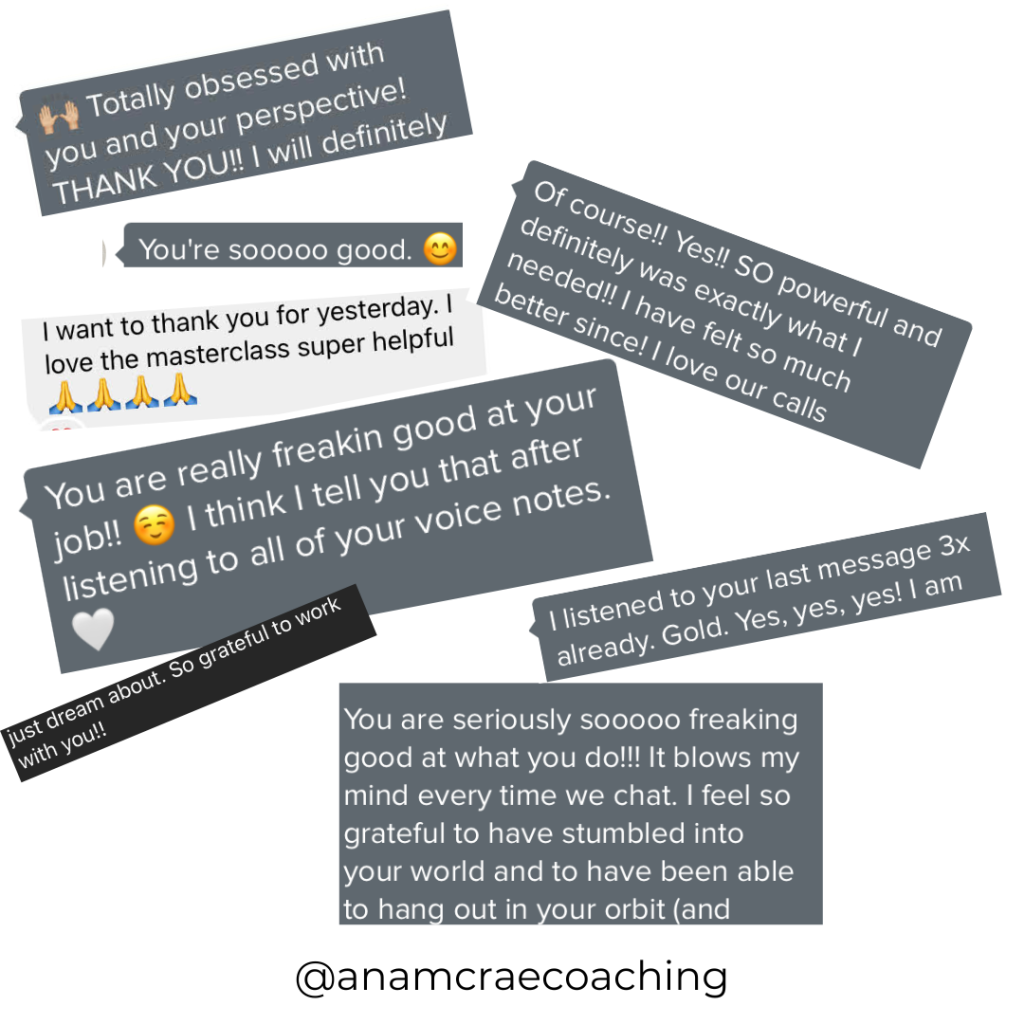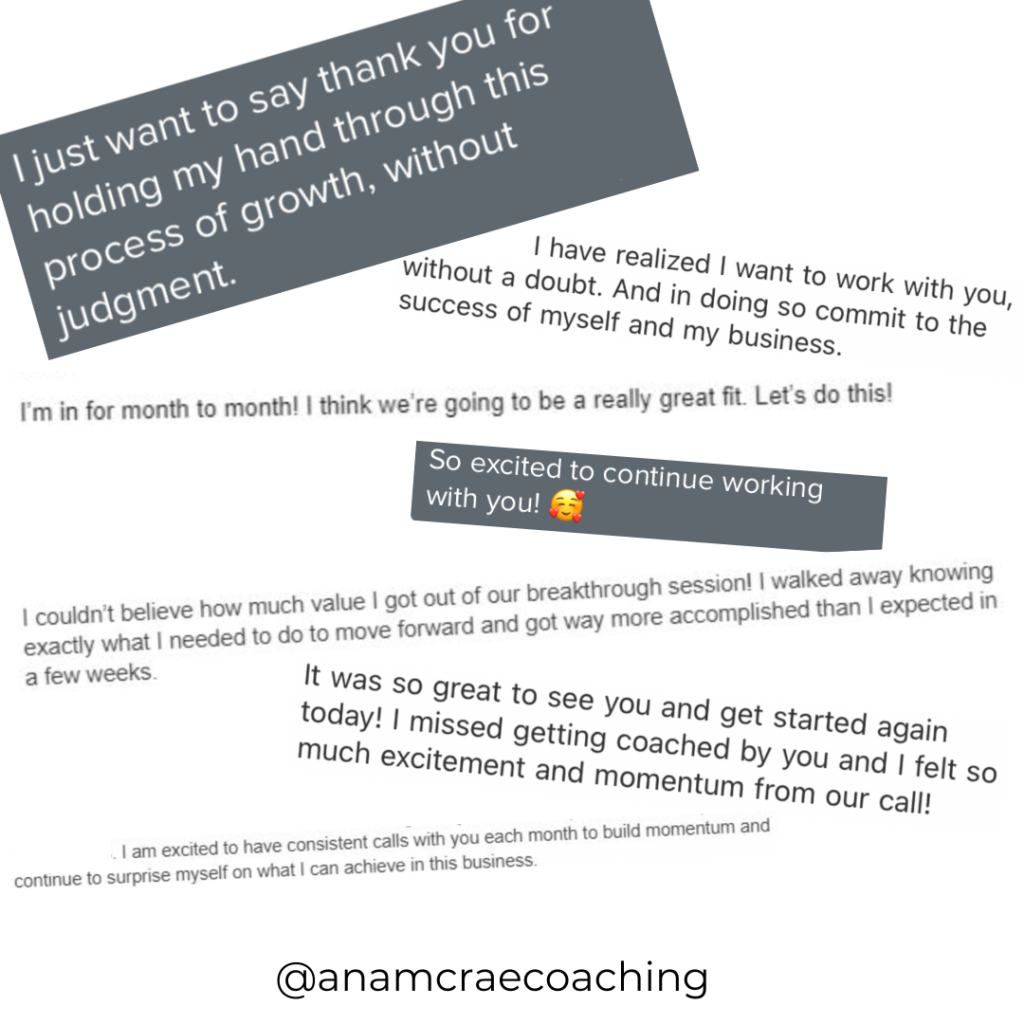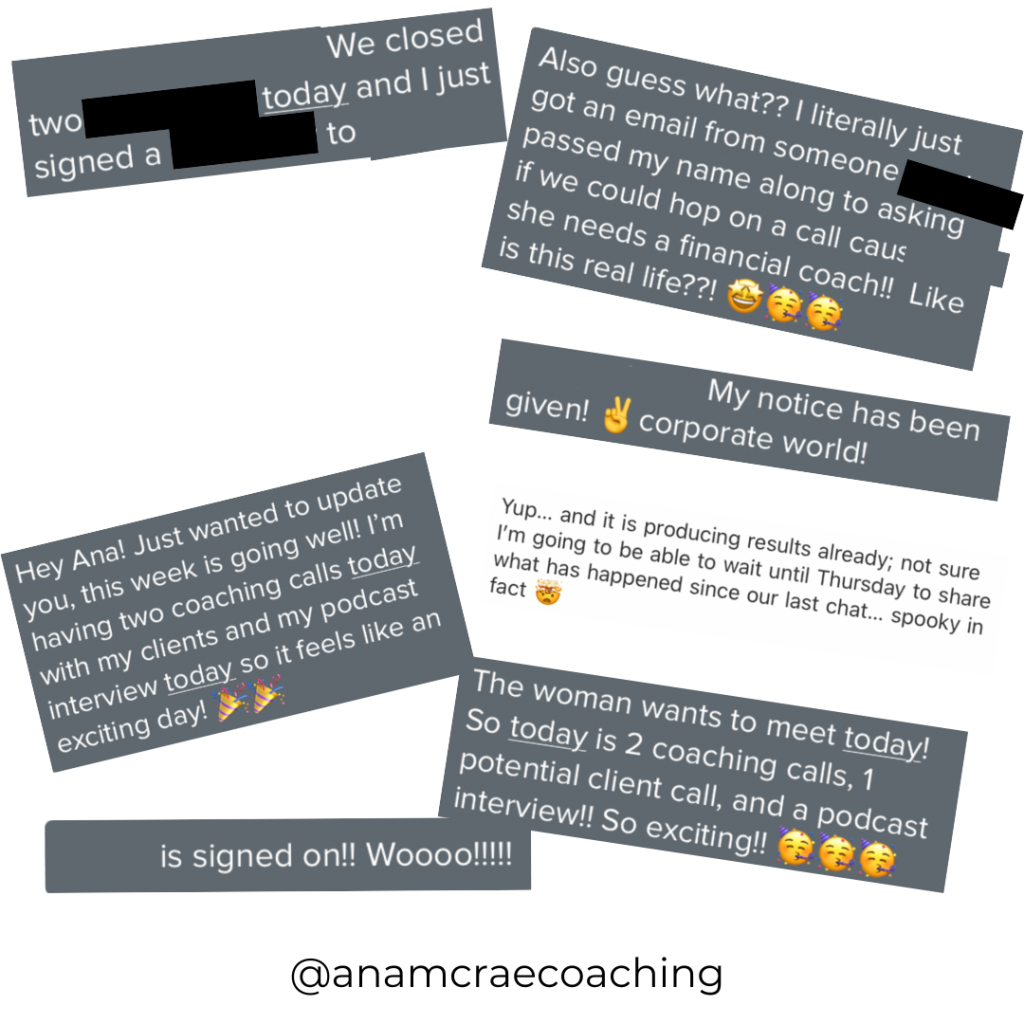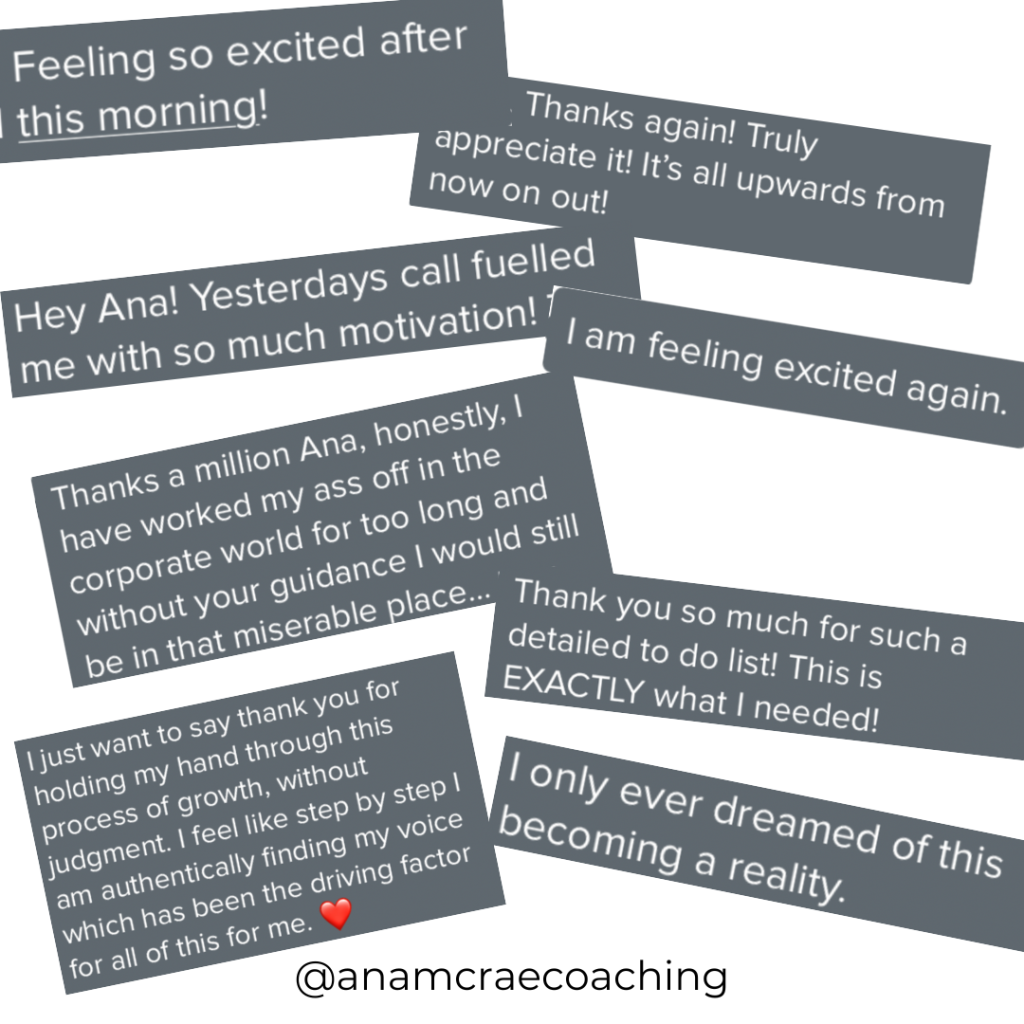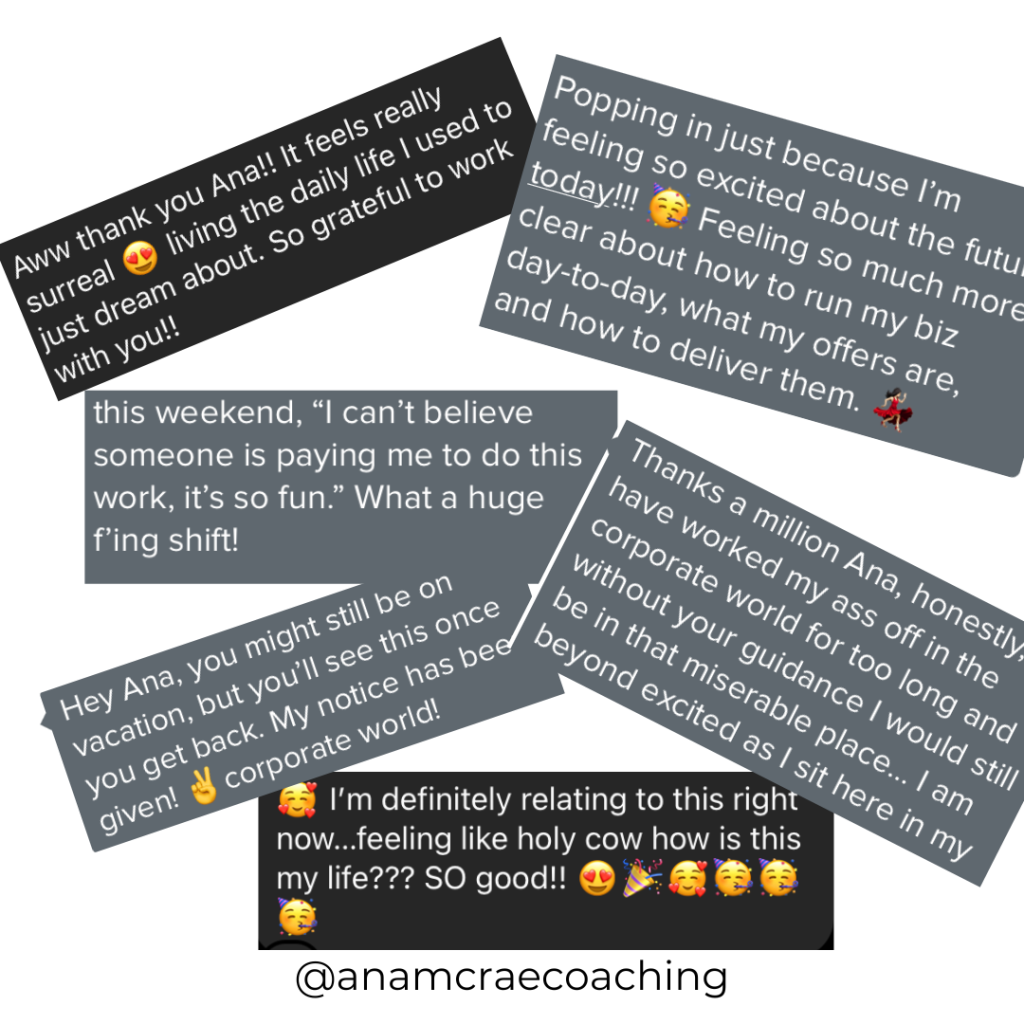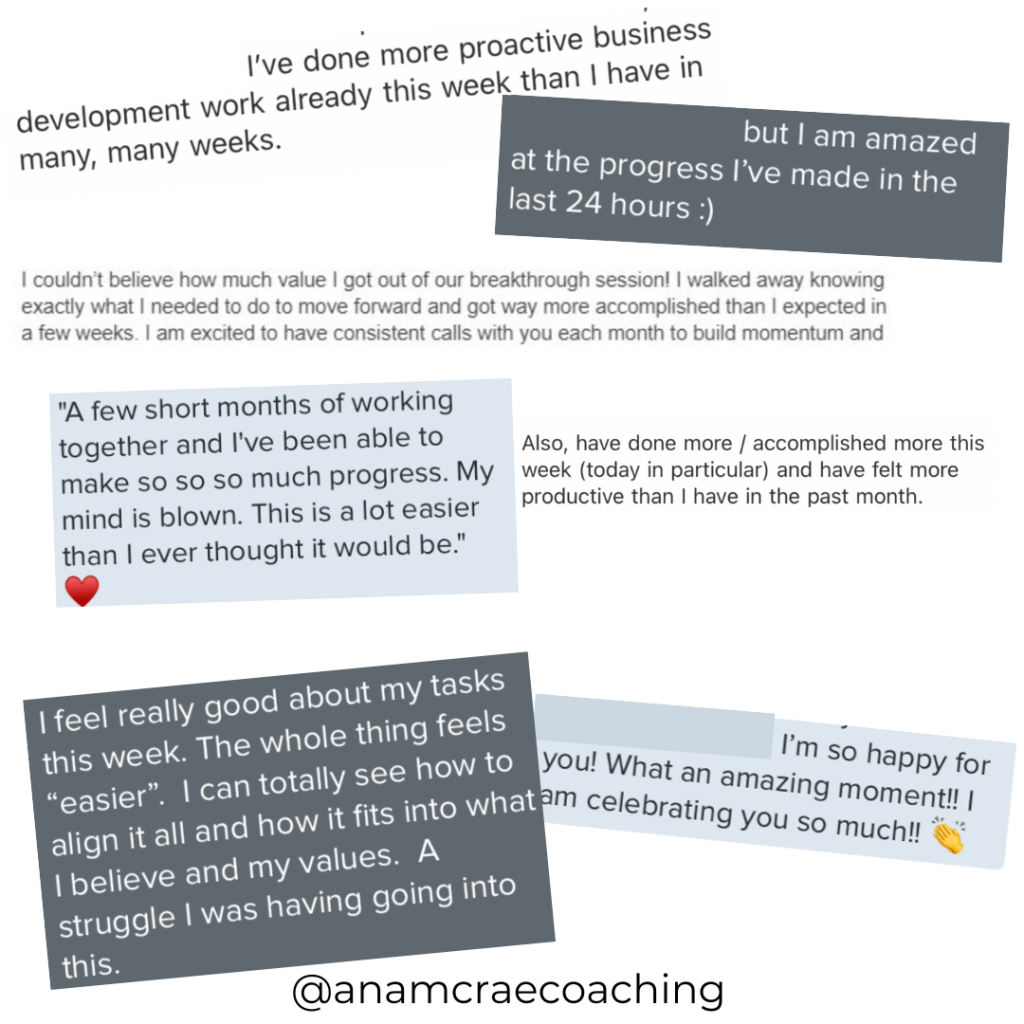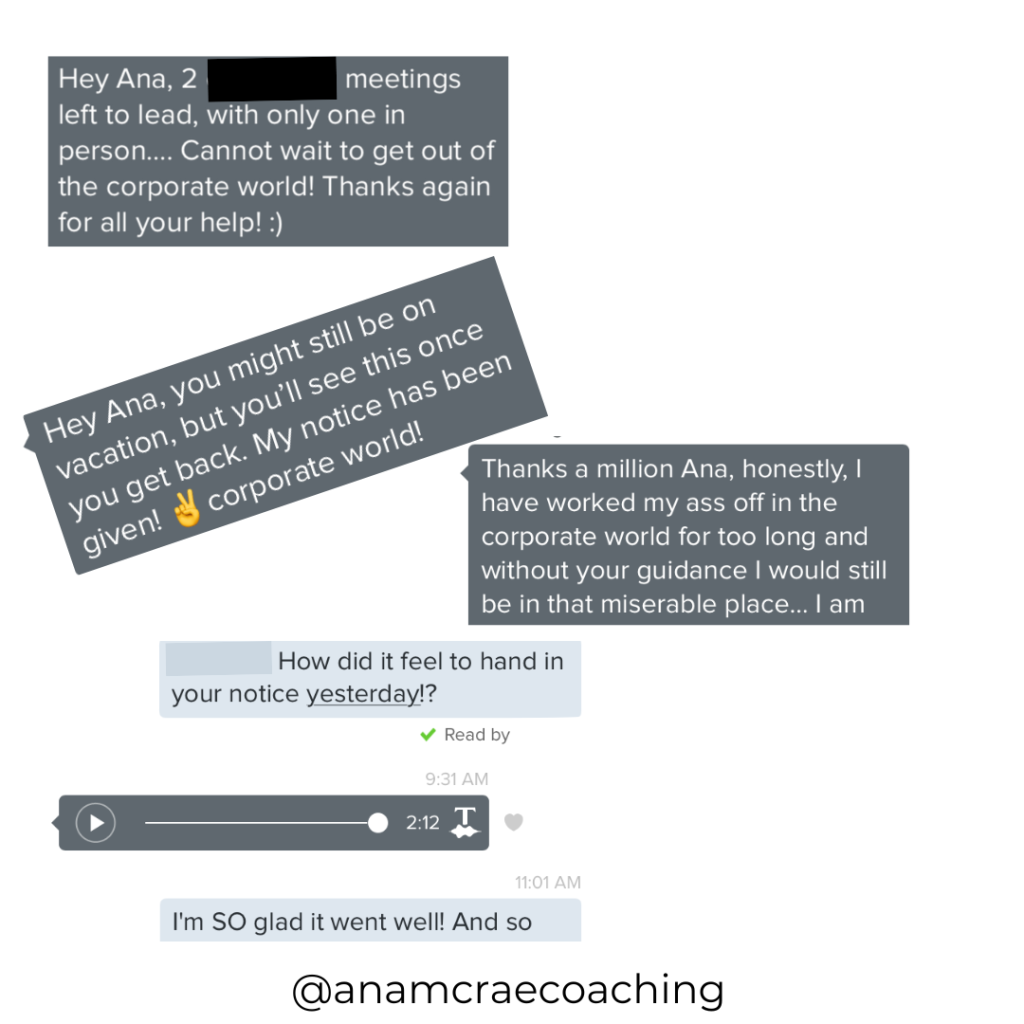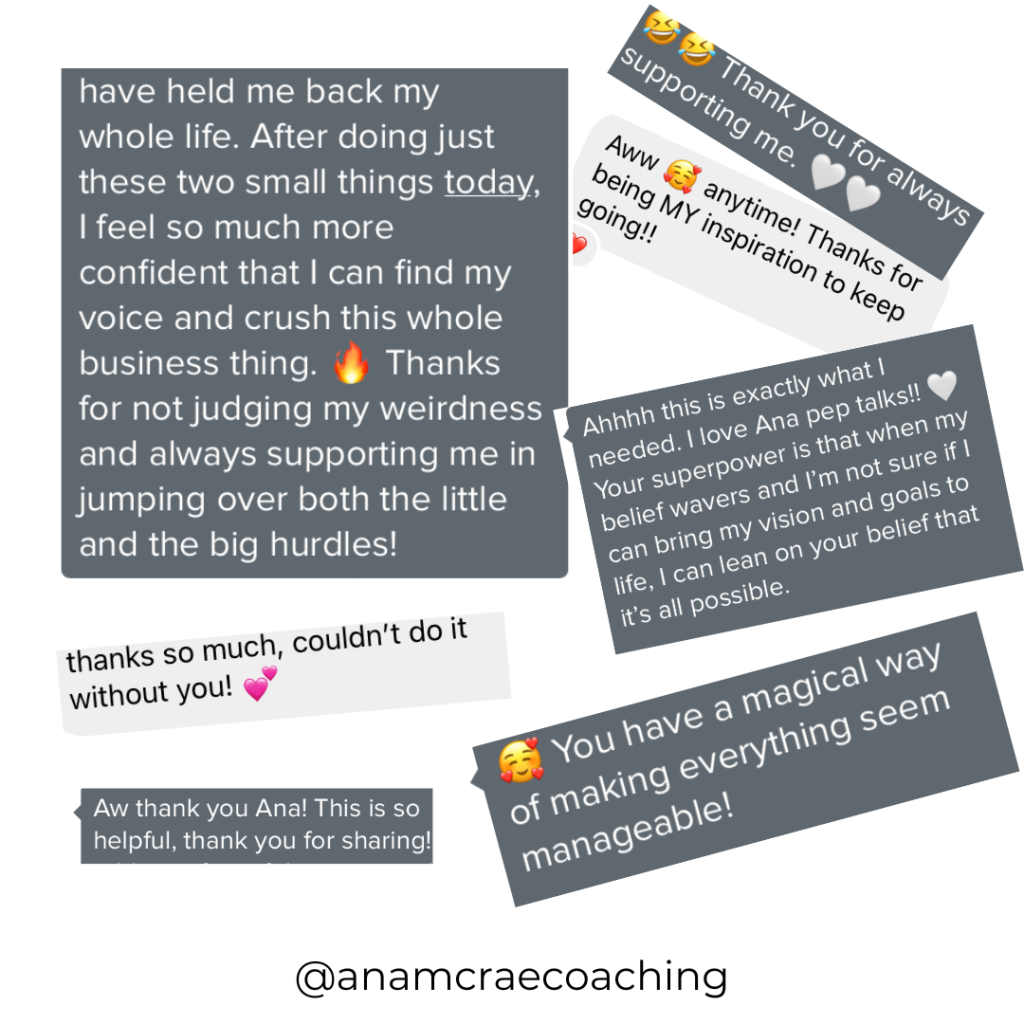 Ready to level up in your own life and business?
Let's chat about how I can help you step into your full potential and lead a thriving business while living a fulfilling life!